2012
Sat. Sept. 15 – Latin Delights music for guitar and strings including Castelnuovo-Tedesco Quintette for Guitar & Strings, Ponce Quartet (a little known work of Ponce left unfinished, and completed by Albert Ubach), Turina Quartet (one of the unknown lute quartet works of Turina, here arranged by Dunn for guitar and strings.) and music for string quartet. With the DieMahler Quartet. Sat. Sept. 15, 7pm. St. Mary the Virgin Church, 1701 Elgin Rd. Tickets: $25/22.50.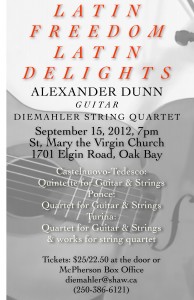 October 19th, 7:30pm – Music for Choir & Guitar. Alix Goolden Performance Hall, 907 Pandora Avenue, Victoria, $20, $15 (65+), free for 25 & under. October 21st, 3:00pm – St. Mary's Anglican Church, 1973 Cultra Avenue, Saanichton, $20, $15 (65+), free for 25 & under. The North American premiere of How Lovely are thy Dwellings by Alan Hovhaness (discovered and edited by Dunn), Laudate Dominum by Bernardo Juiá, and the premiere of a new work by Liova Bueno.
2011
March 6, 2011 – Multimedia Guitars with Adrian Verdejo, Michael Dias, Bradford Werner, guitars. Lori Hamar, Brandy Baybutt, Johanna Dalgleish, dancers, Fran Gebhard, narrator. Visuals by VJ Photon and Alexander Dunn. Jordan Nobles: Temporal Waves, John Oliver: Prismophony, Stephen Goss: Under Milkwood Variations, Jacob TV: Jesus is Coming
April 28-May 1, 2011 Guitare Montréal – recital, judging, teaching
May 2011 – RCMT examining
June 5, 2011 – Guitar Quartet concert, St. Barnabas Church
June 14-19, 2011 Boston GuitarFest – recital, judging
June 2011 – RCMT examining
June 28- July 3, 2011 – Guitar Foundation of America Festival – judging
August 15-19 – RCMT examining
Sept. 11, 2011 – Recital, Vancouver Guitar Society
Sept. 14, 2011 – Recital, Victoria Conservatory of Music
Oct. 15, 2011 – Recital at the Bruno Walter Auditorium, New York Public Library for Performing Arts, Lincoln Center, NYC. With guitarist Charles Mokotoff.
Nov. 20, 2011 – Ein Schubert Abend. Alexander Dunn & Friends in an all-Schubert program including the Originaltänze D365, Quartet for Flute, Guitar, Viola & Cello D96, Duo in A Minor D173, and four songs with voice (Liebesbotschaft, Das Fischermächden, Aufenthalt, Die Taubenpost) arranged by J.K. Mertz. With Mary Byrne, flute, Michael van der Sloot, viola, Larry Skaggs, cello, Andrew Blad, guitar, Anne Grimm, soprano. St. Barnabas Sunday Concert Series, 3:00pm. Tickets at the door. Corner of Belmont & Begbie St.
2012
Feb. 11, 2012 – GuitarWorks marks 20 years at the University of Victoria with 20th century guitar masterworks of Elliott Carter, George Crumb, Nicholas Maw, and Manuel Ponce. Carter: Luimen, Maw: Six Interiors, Crumb: Quest, Hovhaness: Spirit of Trees. With Anne Grimm, soprano, and a host of wonderful musicians from the UVic School of Music. Sat. Feb. 11, PT Young Recital Hall, University of Victoria, $17.50 & $13.50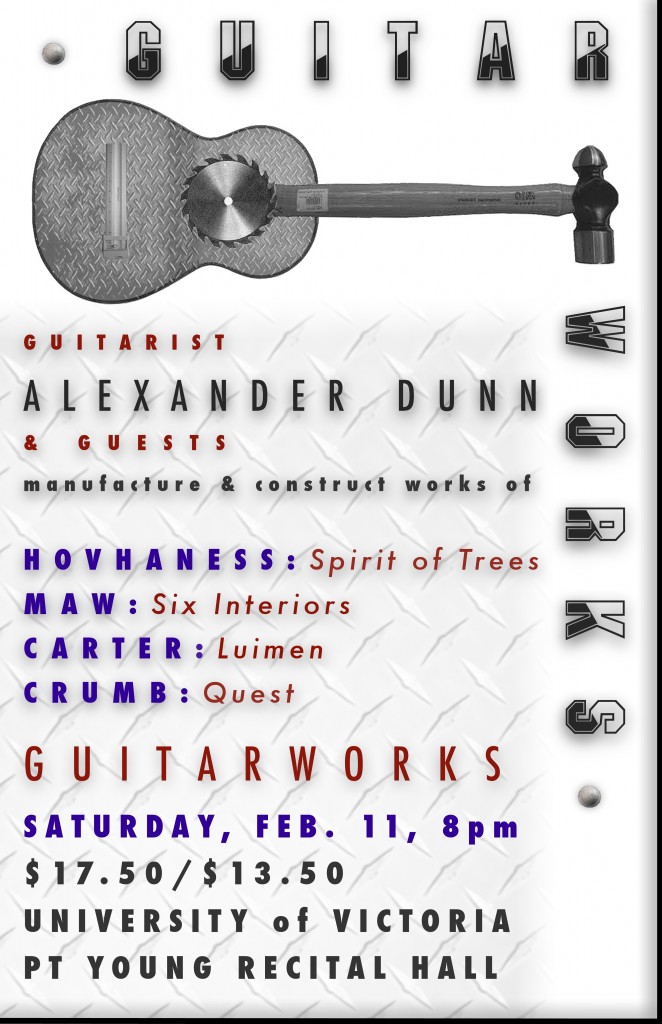 April 9, 2012 – Recital and masterclass at Southwestern University, Austin, TX – Sarofim School of Fine Arts Artist Series. With guitarist Steve Kostelnik. Masterclass on April 10.
April 13, 2012 – Masterclass at University of North Texas, Denton.
April 19-20 – Vancouver Kiwanis Music Festivals – adjudication.
May 6 – Recital at Saddleback College, Orange County, CA. Castelnuovo-Tedesco Caprichos de Goya Op. 195 with projections by artist Daniel Laskarin.
June 20-24 Boston GuitarFest at the New England Conservatory of Music. Performances and judging of the composition competition.
June 28 – Beethoven Songs with Guitar lecture/recital at the Guitar Foundation of America International Conference, Charleston, South Carolina. With tenor Joseph Ford.
2014
Sat. Nov. 16 – GuitarWorks Works of Crumb, Davies, Bueno, Brady. University of Victoria.
Sat. Nov. 23 A Britten Celebration. Nocturnal Op. 70, Songs from the Chinese Op. 58, assorted instrumental works.
Sun. March 16 Sunshine Coast solo recital. Ponce: 20 Variations & Fugue, Britten: Nocturnal, Willcocks: Studies.
Sat. March 29 Solo Recital: Schulz: Studies, Willcocks: Studies,
April 11-13 Toronto Guitar Symposium. Works of Vancouver composer John Oliver.
June 20-24 GFA Lecture Recital. Turina Quartets.
June Boston GuitarFest: Bracali: Viajes.
2015
Guitar Works: Music of David Jaffe.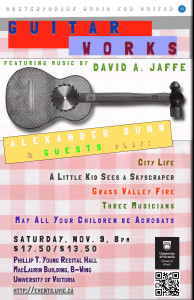 Guitar Works: Baroque edition: Works of Scarlatti, Vivaldi, Handel. Baroque guitar with theorbo, baroque violin, traverse flute, baroque cello, voice.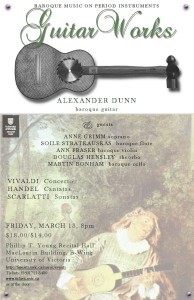 Solo Recital – Willcocks compete works, Bach Suite BWV 1009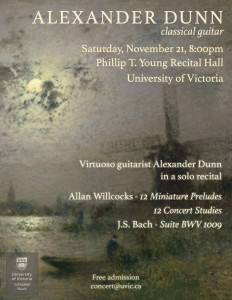 Solo Recital – Central Conservatory Beijing